Collecting a bonus will change zombie horde into a different creature. Bonuses can be activated by collecting special box with question marks on it. Box is appearing periodically during the game (approximately once per every background). After collecting the box, zombie horde will take a form of the bonus. Bonuses are assigned randomly.
Bonus can be upgraded or prolonged in Market or via Zombirds. Bonus ends with two parallel coin columns with an audio and Zombies return to their standard form afterwards. 
List of bonuses
Edit
Name
From level
Height
Can Fly?
Destroys everything
Special ability
Gold
18
small
no
yes
Convert vehicles and bombs into coins
Quarterback
Unlocked by default
small
no
yes
Destroy everything
U.F.O.
Unlocked by default
small
no
no
Gives additional zombies
Tsunami
Unlocked by default
small-

large

yes
yes
Destroys everything
GiantZ
Unlocked by default
large
no
yes
Shoots lasers
Ninja
Unlocked by default
small
no
yes
Double jump, shoots starts
Dragon
Unlocked by default
medium
yes
yes
Glide, breath fire
Balloon
Unlocked by default
small
yes
no
Can fly forever
Mecha
58
large
yes
yes
Has a circular saw
RiderZ
133
medium
no
yes
Destroy everything, go back to the surface when falling into holes(max-level)
Table Comments
"height" can be small (standard Zombie size), medium(can collect a column of 3 coins when not jumping) or large. Large size means that you don't have to jump to collect flying objects or to collect coin formations and obtain "Perfect" 
"can fly" means either real flying or extremely large jumps, anything which prevents it from falling into hole. 
"Destroys everything" means that they can destroy bombs and vehicles(both static and moving) on impact(with the exception of Submarine and Missiles).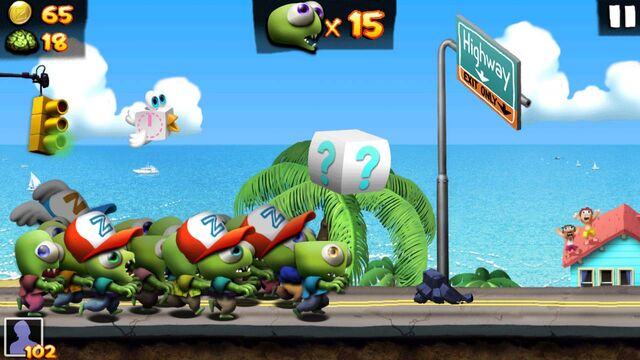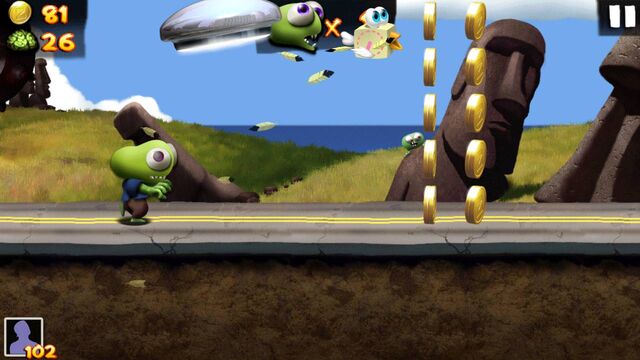 Voting poll
Edit
What's your favourite Bonus?
Community content is available under
CC-BY-SA
unless otherwise noted.